Karen Koss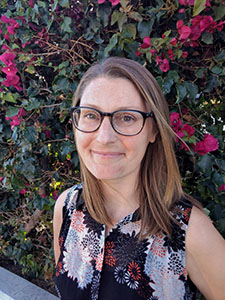 Lecturer; Writing Mentors Program Co-Coordinator
Email: [email protected]
Originally from the midwest, Karen Koss earned her B.A. in English from Grand Valley State University before moving to the southwest. For eight years, she was a public school educator in Arizona teaching English, psychology, and professional development. In 2016, she began her graduate studies here at San Diego State University in the RWS department. Karen was an RWS Writing Fellow, teaching associate, and served as a member of the Lower Division Writing committee before she graduated with her M.A. in Rhetoric and Writing Studies in December 2018.
Karen became a lecturer for the RWS department in 2019. Her pedagogy focuses on a student-centered approach with an emphasis on conscious learning, equity, and inclusivity. Building on the work of her thesis involving the rhetorical consequences of hashtag activism, she encourages her students to think rhetorically and use their everyday literacies as a rhetorical act.
Finally feeling at home in San Diego, Karen enjoys spending her free time with her husband and dogs, both outdoors while hiking and indoors while crafting.