News & Events
Upcoming Events
Landmark Lecture Series
Linguistic Justice: Black Language, Literacy, Identity, and Pedagogy
Lecture by April Baker-Bell
Thursday, March 17, 2022 from 12:30 - 1:30 pm (PST)
Contact the RWS Department to attend: [email protected].
In this talk, Dr. April Baker-Bell will discuss how anti-Black linguistic racism and white linguistic supremacy get normalized in teacher attitudes, curriculum and instruction, pedagogical approaches, disciplinary discourses, and research, and she will discuss the impact these decisions have on Black students' language education and their linguistic, racial, and intellectual identities. Dr. Baker-Bell will introduce a new way forward through Antiracist Black Language Pedagogy, a pedagogical approach that intentionally and unapologetically places Black Language at the center to critically interrogate white linguistic hegemony and anti-Black linguistic racism.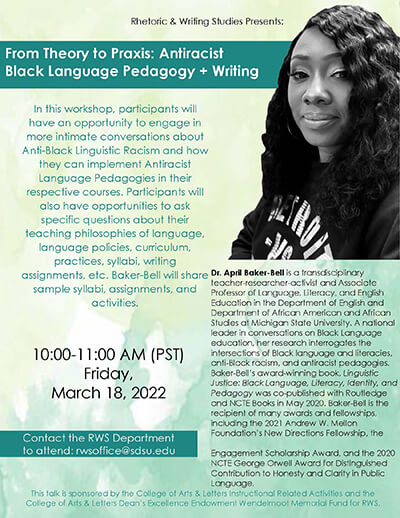 From Theory to Praxis: Antiracist Black Language Pedagogy + Writing
Workshop with April Baker-Bell
For RWS Faculty Only
Friday, March 18, 2022 from 10 - 11 am (PST)
Contact the RWS Department to attend: [email protected].
In this workshop, participants will have an opportunity to engage in more intimate conversations about Anti-Black Linguistic Racism and how they can implement Antiracist Language Pedagogies in their respective courses. Participants will also have opportunities to ask specific questions about their teaching philosophies of language, language policies, curriculum, practices, syllabi, writing assignments, etc. Baker-Bell will share sample syllabi, assignments, and activities.
About April Baker-Bell
Dr. April Baker-Bell is a transdisciplinary teacher-researcher-activist and Associate Professor of Language, Literacy, and English Education in the Department of English and Department of African American and African Studies at Michigan State University. A national leader in conversations on Black Language education, her research interrogates the intersections of Black language and literacies, anti-Black racism, and antiracist pedagogies, and is concerned with antiracist writing, critical media literacies, Black feminist-womanist storytelling, and self-preservation for Black women in academia, with an emphasis on early career Black women.
Baker-Bell's award-winning book, Linguistic Justice: Black Language, Literacy, Identity, and Pedagogy, brings together theory, research, and practice to dismantle Anti-Black Linguistic Racism (a term Baker-Bell coined) and white linguistic supremacy. The book provides ethnographic snapshots of how Black students navigate and negotiate their linguistic and racial identities across multiple contexts, and it captures what Antiracist Black Language Pedagogy looks like in community with Black youth. Linguistic Justice features a range of multimodal examples and practices through instructional maps, charts, artwork, and stories that reflect the urgent need for antiracist language pedagogies in our current social and political climate.
Baker-Bell is the recipient of many awards and fellowships, including the 2021 Andrew W. Mellon Foundation's New Directions Fellowship, the 2021 Michigan State University's Community Engagement Scholarship Award and the 2021 Distinguished Partnership Award for Community-Engaged Creative Activity, the 2020 NCTE George Orwell Award for Distinguished Contribution to Honesty and Clarity in Public Language, the 2019 Michigan State University Alumni Award for Innovation & Leadership in Teaching and Learning, and the 2018 AERA Language and Social Processes Early Career Scholar Award.


Current News

Graduate Student Receives Award
Congratulations to RWS M.A. student Eirein Gaile Harn, recipient of a Master's Research Scholarship for the 2021–2022 academic year.
Eirein Gaile's research aims to extend Onomastics (the study of names) into the field of Rhetoric. She will explore names as rhetorical sites of meaning by considering the rhetorical strategies people use to navigate the relationship between their names and their cultural identity. Specifically, she seeks to understand the role names play in cultural identity development.
Teaching Awards
Heart-felt congratulations to Carl Fielden and Jamie Madden for their respective awards from the College of Arts and Letters!
Carl has been recognized with the Excellence in Teaching Award as a Lecturer and Jamie with the Excellence in Service Award. These awards are well deserved and timely, if not long overdue! Jamie has been a lecturer in RWS since 2004 and Carl since the department's inception in 1993. Though they may receive daily appreciation from students and other faculty for their diligent work, it is a wonderful opportunity to formally acknowledge their achievements and show them that their efforts have not gone unnoticed.


Recent Faculty Publications
Glen McClish, " 'Gems of Negro Eloquence': Memorializing the African American Rhetoric of the 1895 South Carolina Constitutional Convention." New North Star 3 (2021): 29–44.
Jennifer Sheppard, "Pandemic Pedagogy: What We Learned from the Sudden Transition to Online Teaching and How it Can Help Us Prepare to Teach Writing in an Uncertain Future." Composition Studies, vol. 49, no. 1, 2021, pp. 60–83.
Suzanne Bordelon and Elizabethada A. Wright, "Crypto-Feminist Enthymemes in the Periodical Texts of Louise Clappe and Fanny Fern." Nineteenth-Century American Activist Rhetorics. Edited by Patricia Bizzell and Lisa Zimmerelli, MLA, 2021, pp. 265–276.
Manual Perez-Quiñones and Consuelo Salas, "How the Ideology of Monolingualism Drives Us to Monolingual Interaction." Community and Culture Forum, ACM Interactions, May/June 2021.



Archives

Graduate Student Receives Awards
Congratulations to RWS M.A. student, Lorise A. Diamond, recipient of both a Graduate Research Scholarship Award for 2020-21 and a Sally Casanova Scholarship.
Lorise's thesis proposal outlines an inquiry into the rhetorical functions of location, space, and linguistic messages, a comparison between policy statements and written messages from Chief Diversity Officers that encourage diversity, equity, and inclusion on university campuses and the spaces where those messages are either spurned or enacted. Conducting site visits and fieldwork at three minority-serving institutions, Lorise intends to connect scholarship in rhetoric, cultural studies, and critical race theory and contribute to contemporary conversations about equity and inclusion in higher education. Moreover, research findings will offer insights to campuses and initiatives committed to the academic success of diverse student populations through both policy and practice.

CAL Teaching Excellence Award
Congratulations to Jason Parker, who received the College of Arts & Letters Excellence in Teaching Award for Non-Tenure Track Faculty. Jason Parker has taught in the Rhetoric and Writing Studies Department for the past fourteen years. For the 2019-2020 academic year, Jason has served as the Assistant Director of the Lower Division Writing Program and advises a cohort of graduate teaching associates who are leading first-year writing courses. Learn more about Jason and the award.



Grant Awarded
Congratulations to RWS lecturer, Celia Sigmon! Celia, the newly appointed director of the Border Voices Poetry Project, was awarded a $5,000 grant from the Adams Foundation and matching funds from a private donor. The money will be used to teach poetry classes in San Diego city schools grades 3-12, to fund a children's poetry anthology and a poetry reading, featuring Jane Hirschfield in May 2020 at SDSU.


Favorite Faculty - Did you know?
Each year, students in our residence halls nominate their favorite teachers. This year, six of the forty one nominees taught RWS classes! We thank these instructors for their hard work and dedication to teaching in 2018/2019:
Ryan Barela (2nd year!)
Enrique Cervantes
David Judd
Jake Maguire
Robert Stein
Tyler Thompson (2nd year!)


Award and New Publication
Congratulations to Dr. Jennifer Sheppard, whose book chapter "Issues in Digital and Multimodal Writing: Composition Instruction for the 21st Century," was just published in Irene Clark's (Ed.) Concepts in Composition: Theory and Practices in the Teaching of Writing (3rd ed.) by Routledge.
Dr. Sheppard was also a winner of the College of Arts & Letters Excellence in Teaching Award for tenure-track/tenured faculty. Learn more about her award.


Minifee Featured on SDVoyager
Dr. Paul Minifee was recently profiled on the SDVoyager. Learn more about Paul and why he is so passionate about helping students. Read the full article.


Favorite Faculty Award
Congratulations to Gretchen Barksdale who won the 2017-2018 Favorite Faculty Award for small classes from the Division of Student Affairs, Residential Education Office.
Students in SDSU residence halls vote on the award, which honors all faculty, including tenured/tenure-track, lecturers, and graduate students. Other RWS nominees for the award included Ryan Barela, Catherine Hoffman, Dr. Paul Minifee, Jonathan Rodley, Monika Slater, Katlin Sweeney, Andrew Testa, Tyler Thompson, and Michael Underwood. Excellent showing by RWS faculty!
Gretchen Barksdale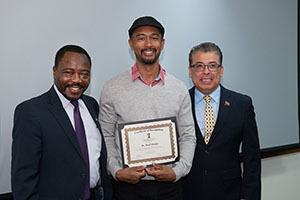 Dr. Paul Minifee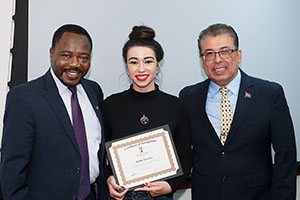 Katlin Sweeney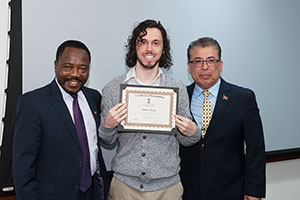 Andrew Testa
Teaching Excellence Award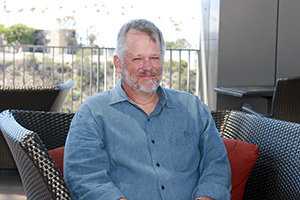 Congratulations to Dr. Steve Merriam, winner of the College of Arts & Letters Excellence in Teaching Award for non-tenure track faculty.
For nearly two decades, Steve has successfully taught a wide variety of courses for Rhetoric and Writing Studies, from lower division offerings such as RWS 100, 200, and 290, to upper division classes such as 305W, 390W, 501, 503W, 504, 506, and 507. Throughout this range of courses, he has distinguished himself while helping thousands of students improve their writing, speaking, and critical thinking skills. In addition to his excellent work as a teacher of rhetoric and writing, Steve has played important leadership roles in our department that extend beyond the work typically performed by lecturing faculty. For example, when Rhetoric and Writing Studies adopted the College of Business's introductory writing course, Steve was instrumental in transforming it into RWS 290, Business Writing and Rhetoric, an innovative course centered on the application of rhetorical principles to business writing. He also designed and implemented RWS 390W, a W course particularly designed for students from the College of Business. He is widely admired by his colleagues and students.
The annual RWS Landmark Lecture invites prominent scholars in Rhetoric and Writing Studies to discuss current research and pedagogy in our field. For more information, please see the lecture page.


Designing and Sustaining Writing Programs for and with Multilingual Students
Wednesday, April 7, 2021
Presented by Dr. Laura Gonzales, University of Florida
In this workshop, Gonzales will argue that multilingual students have important strengths and experiences that should be centralized in the development of writing programs. Positioning translation as a rhetorical technology that multilingual writers practice every day, Gonzales will suggest that language diversity should be a central component of writing curricula design across areas of specialization, including first-year composition and professional writing. Language diversity is an asset that should inform writing education, particularly as students prepare to work as effective communicators in contemporary academic, business and community contexts. This hands-on workshop will include possibilities for instructors to consider how they might incorporate language diversity issues and activities into their courses.
Society for Technical Communication (STC) Meeting: Tech Comm Job Search Progression at SDSU
Tuesday, March 6, 2018
Ever wondered how to tap into the hidden technical communicator job market? Do you know what you're supposed to do once you find it? STC San Diego's Job Search Progression at SDSU is your chance to learn how to conduct a successful job search in the hidden technical communicator job market. Join the STC San Diego Slack community