Fall 2022
The SDSU Rhetoric & Writing Studies Department Newsletter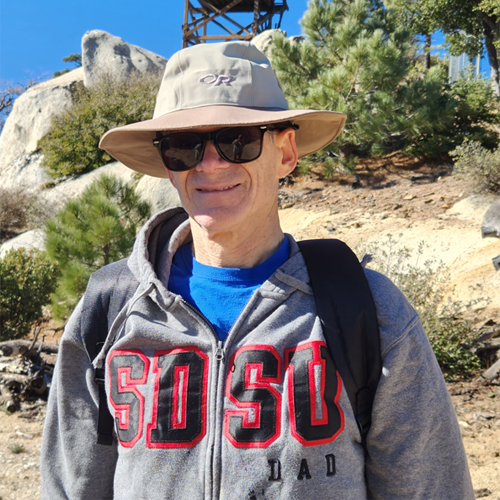 Chair's Note
As I peruse this issue of the RWS Newsletter, I am grateful for the many RWS students and colleagues who have studied, taught, and pursued research in this department during my decades here, from Professor Ann Johns, the first person I met when I interviewed for my job at SDSU, to Professors Linn Bekins and Cali Linfor, who entered the faculty the same year I began, to students such as Emma Bardin, Jenny Varichio, and Missy Watson, who earned master's degrees with us before going on to do great work in a variety of fields, to recent graduates such as John Berry, who earned his bachelor's degree in May 2022 and has just launched his post-baccalaureate career. And I'm proud of former students who, like René De los Santos, are now my teaching colleagues within the department. These specific rhetoricians, all featured in this issue, demonstrate the rich array of perspectives, passions, talents, and commitments that distinguish this department.
Happy reading!
Glen McClish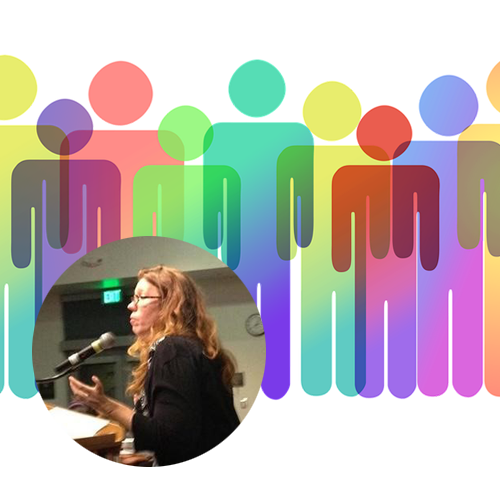 Diversity, Equity, and Inclusion
Cali Linfor
Cali Linfor started her career at San Diego State University by obtaining her MFA in poetry. "I am a poet by training and poets are, by nature, rhetorically interested in knowledge creation, how communication works, et cetera." As a result, she found herself to be incredibly interested in rhetoric, and more specifically how rhetoric pertains to educational equity work. Early on in her career, Linfor got involved in community outreach work regarding local high schools. Her goal was to "allow students a smoother transition between their high schools and their future colleges or jobs," which helped to inspire her work with educational equity.
"My field of interests really looked at structural inequities, especially how they manifested through literacy and also then developing an expertise in how to teach teachers to teach rhetoric. My role in the department has been a position of community liaison in a lot of ways — intersegmental partnering in terms of issues of rhetoric and teaching in pedagogy."
Linfor describes how deeply she is interested in equity and making the RWS department more equitable. As a co-founder of the Anti-Racism, Equity, and Inclusion Working Group, Linfor expresses that she sits on the RWS Diversity Committee and works to implement the department's diversity plan. Linfor explains that she wrote a global rhetorics grant with her colleagues Karen Koss and Consuelo Salas, who are working to "shift the fundamental ideas of what we teach away from Eurocentric and Greek rhetorics into a global perspective of rhetorical concepts."
Linfor explains how the department's Anti-Racism, Equity, and Inclusion Working Group began as a movement within the department when several members of the department decided that they "wanted a space to reckon with the policies and look at the department and [their] experiences through the lens of what it would mean to be anti-racist, equitable, and inclusive." And that is exactly what they did. Linfor mentions how the field of rhetoric stems from a "normative understanding of the world, and since rhetoric is about communicative acts, it's given power to those normatives and there's a reckoning around that. At the same time, rhetoric is the key to opening [equity] up. And we can do so by honoring the communicative acts of our own communities."
When it comes to the term "diversity," Linfor expresses how it "really means to create a culture and change basic policies and paradigms to where all different ways of existence are valued as resources." In fact, she expressed a dislike for the term in general. "Diversity tends to have to do with numbers, right? Meaning that one measure of a department's diversity is the ability to quantify a range of membership in that department. Whether that's from gender lines, or ability lines, or ethnic lines, or schools of thoughts lines, or class status lines. Those things as quantifiable measures are important, but I'm more interested in issues of equity."
At present, Linfor is working on revising a book she wrote titled "I Animal." The book aims to look at "what happens when we cut ourselves off from identifying as human animals. It's an interesting book rhetorically because a lot of times poetry is seen as very inaccessible. If you're reading electronically and you take the cursor, you can scroll over the words and it will connect to allusions I'm making." Along with this project, as a professor of equity at SDSU, Linfor is especially interested in creating safe spaces, "celebrating the rhetorical traditions of people, and concentrating on futurity — what we call the elsewhere and the otherwise."
Linfor shared some incredibly valuable and impactful advice for current students. "I think that staying intellectually curious, having specialized interests (in equity or whatever it is), and a passion about that is really important," she says. "It's also important to embrace the diversity of our field in terms of how we get here, and be joyous for however you arrived here, whether that's as a journalist or a technical writer. Because each one of those fields has enormous things to add to our discipline. Just like me as a poet. Everyone has room in this department."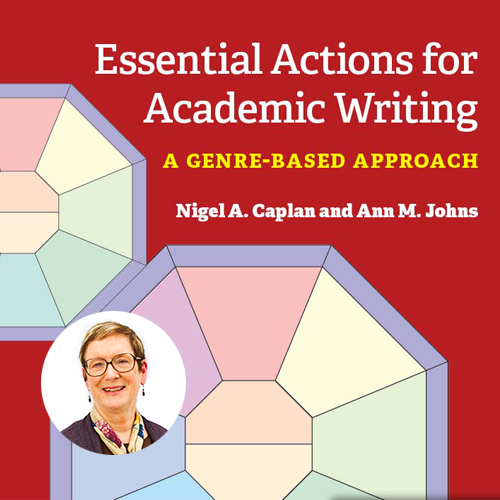 Spotlight
Ann Johns
Professor Emerita Ann Johns is a renowned scholar in the field of applied linguistics. She began as a history major at Carleton College and has an M.A. in the teaching of history from the University of Chicago. Following her graduation, she experienced a once-in-a-lifetime opportunity when she moved with her family to Egypt, where she not only taught English and history, but also devoted herself to completing another M.A. in the teaching of English at the American University in Cairo. Johns spent time at yet another university, USC, where she was able to complete her Ph.D. and write her dissertation, titled "Cohesion in Written English." Her early career life really took off when she moved to San Diego with her husband and founded the American Language Institute, enrolling roughly 1,000 students at the time along with 80 instructors and administrators. Clearly accomplished in her field, Johns places emphasis on "taking every opportunity you can to learn."
One could argue that Johns is self-taught, as she talks about never having taken a teaching of writing course; which makes her accomplishments all the more impressive. She gives credit to "some of the great names in second language writing: John Swales, Ken Hyland, Vijay Bhatia, Chris Feak, and Chris Tardy" for mentoring her and allowing her to read their brilliant work, some of which inspired her to complete research with students from her classroom as participants. This prompted one of her questions in her best-known paper in Written Composition that deals with how "a Vietnamese-speaking SDSU student continued to fail our timed essay-writing exams but made 'A' grades on his short-answer tests in biology," which led Johns to ask, "How could that be? Perhaps we should reconsider what we are teaching in academic writing classes."
As an avid traveler with a goal of writing curricula for composition classes, Johns acknowledges how different academic writing is in different parts of the world, which is why during her Fulbrights in Lebanon and South Africa she specifically made a point to "develop courses for local college students." In China, she worked with a "fine rhetorician, Rick Coe, in programs for experienced language teachers."
Throughout her life, Johns has placed an emphasis on the value of being able to write and teach curricula. After some time, she decided to shift her main focus from strictly research to teaching. After being "promoted to full professor" and then retiring, Johns states that she is "free to write what [she] believe[s] is much more useful to teachers: a textbook based on genre theory." She was incredibly passionate about writing this textbook, and when a colleague from the University of Delaware, Nigel Caplan, approached her with an idea to collaborate on the book, Johns was thrilled. "We worked together for more than five years on this book, agreeing on most points but disagreeing on others, writing, revising, and writing again, until we came up with the publishable volume, 'Essential Actions for Academic Writing: A Genre-Based Approach' (University of Michigan Press, 2021)." Johns mentions how much she learned from co-writing this text and credits Nigel Caplan as the "first author." She has worked on and written three different volumes for Michigan.
Out of her numerous rhetorical accomplishments, Johns discusses that some of the most interesting projects that she has worked on took place in South Africa and Lebanon while she was a Fulbright scholar. While she was there, Johns was fortunate to be able to work "closely with local faculty and administrators and their students to produce academic English curricula that were appropriate for the context in which [they] were working." She worked diligently on this project, as it "involved interviews with various stakeholders, analyses of student writing and university textbooks, testing materials, and LOTS of meetings," while also making wonderful friendships along the way.
Johns offers some incredibly relevant advice for current students who are looking to further their education in the field of rhetoric and writing. She emphasizes the following:
Take every opportunity to learn that you can. For example, your instructors are experts — ask them questions. Your fellow students have interesting lives. How can you work with them to gain knowledge and become better teachers and researchers? Become involved. Create communities.
Despite its dangers (and they were present, even when we traveled), see the world. And, more importantly, live and work in different parts of this shrinking globe. Apply for a Fulbright, for example.
Enjoy! My family and I (husband and three kids) had a wonderful time traveling, meeting people, expanding our horizons, studying the local languages, etc.
And analyze texts from the genres in your worlds. It's fun.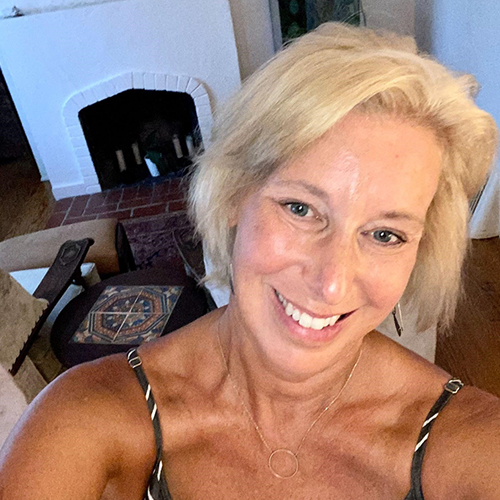 Faculty Profile
Linn Bekins
Linn Bekins is a professor in the RWS department who has been at SDSU for 23 years. She is described by her students as "caring" and "approachable" and values her teaching style that is focused around her constant care for her students' well being. She credits her student-centered pedagogy to two "wonderful mentors" at the University of Utah, Tom Huckin and Marueen Mathison, who also emphasized the importance of empirical research.
Coming from a non-academic family background, Bekins is a self-made learner who took opportunities into her own hands when building her academic career. Her love of learning, inquiring minds, change, and challenge were all factors in her decision to work with adult learners. Her core values are centered around analytical thinking, unquenchable curiosity, and highly interactive academia, which is why the courses she enjoys teaching the most are RWS 508W and 607: Scientific Writing and Writing Project Management, respectively.
Teaching these courses has allowed Bekins to engage with students of all interests. She values the interaction with the science-focused students, how to tie in rhetorical emphasis, as well as how to bring in a linguistic approach. She values the diversity in the course and how science and writing are combined flawlessly in an environment that encourages students not to limit themselves. As for RWS 607, Bekins' primary role is to engage with students in the transition between academia to the professional world. She brings in speakers, as well as alumni who offer their insights on the world of writing which also contributes to her appreciation for the varied nature of the two topics.
If Bekins could go back in time, she would tell her younger self and those like her to "be surrounded by people that challenge you, be proactive in sharing, expanding, and co-creating knowledge, and learn how to apply what you are learning in the classroom to the world outside academia: you are learning the tools to enact the change you'd like to see in the world." Bekins will follow her own advice as she continues to teach at SDSU while taking on new consulting experiences. She has recently been working with an international user/experience design group that works on the topic of gendered financial literacy in the workplace. Balancing her work life with her family/social life, Bekins is looking forward to spending time with her three sons, cooking her favorite Spanish tapas, and training for long distance stand up paddle board competitions.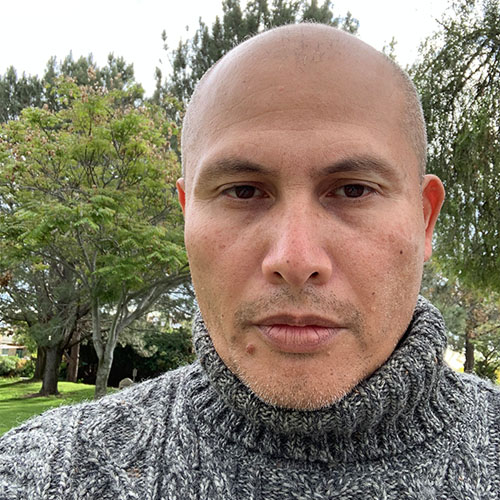 Faculty Profile
René De los Santos
René De los Santos has spent much of his time at San Diego State University as a student and most recently, as a lecturer. He mentions that originally as an English student, he "stumbled into rhetoric" through a Rhetoric of Science course that he found to be "really different from what [he] had ever seen before — the questions that were being asked and the topics that were being addressed were just really mind-blowing for [him]." After taking this course, De los Santos found much inspiration to research rhetoric further through his master's thesis which was the "Rhetoric of Standard Time" and for his Ph.D. studies.
De los Santos passionately describes his experience of writing his thesis, mentioning how he enjoyed how "it was this exploration and delve into history. People who have long ago died and yet, here they are right in front of you. They are speaking to you, they are speaking to somebody at the moment, and they are making cases for time."
Through his research of the rhetoric of standard time from the 19th Century, De los Santos learned about the different cases and systems that were being made for standardized time. "I really wanted to understand the questions–how did we get there and how did we come to adopt these time systems that we now take for granted. It was fun for me because…I never really thought about the confluence of rhetoric and technology and science." He mentions that the SDSU library publishes student's theses and his thesis can be found in the bookstacks there.
During his time as a student, De los Santos found studying rhetoric to be incredibly beneficial and educational. "I think it's really the idea of being exposed to things that I had never really been exposed to before, especially the idea of rhetoric and how it functions and the dynamic aspects of it. We take a lot of things for granted and we don't really think about it. What was really eye-opening for me was the idea that language and how we use images… can be a very powerful force in our society." From his time as both a student and as a teacher, De los Santos was fortunate to have been able to establish his passions and incorporate them into his studies and courses. He mentions how he has loved being able to include his passion for history into rhetoric courses that he has taught and projects that he has worked on. De los Santos discussed how he incorporated both of these passions within his doctoral dissertation that he wrote about the Mexican ministry of finance, which covered "their rhetoric in the aftermath of the Mexican Revolution."
In terms of his more current research since obtaining his Ph.D., De los Santos has had many exciting projects and continues to have even more in store. He mentions the importance of Latin American rhetorics throughout his career and how he has spent much time bringing awareness to it. During one of the Rhetoric Society of America conferences a few years ago, he states that he was "able to get the first panel ever dedicated to Latin American rhetorics," which is an incredibly huge accomplishment within the field. He has also spent time furthering a previous project on the "Dreamer" population returning to schools in Mexico. "The whole point of the project was to try to use data that we were getting about their educational needs and experiences to try to reevaluate the curriculum that the university has there." With that previous project in mind, De los Santos is furthering his work by researching how the "dynamics of education is changing because of this influx of new immigrants" and how rhetoric plays a role in that. He and his colleagues are working toward creating a "broader… binational understanding of how education works."
Reflecting on his time as a student, De los Santos expresses incredibly beneficial advice to current students. "It's important to really understand the discipline that you are in, but also be open to what other disciplines offer you — what other lenses you can use to approach a certain topic" He explains how valuable it is to explore different worldviews and perspectives, because it holds us accountable and "keeps us honest." De los Santos adds that with the perspective of both a student and a teacher, RWS at San Diego State University is an admirable program and especially notes the excellence of Glen McClish. "You can compare it to other programs, and I have, and I think Dr. McClish has done an excellent job… really creating a program that I believe has" been able to get "students prepared for whatever future that they desire to pursue."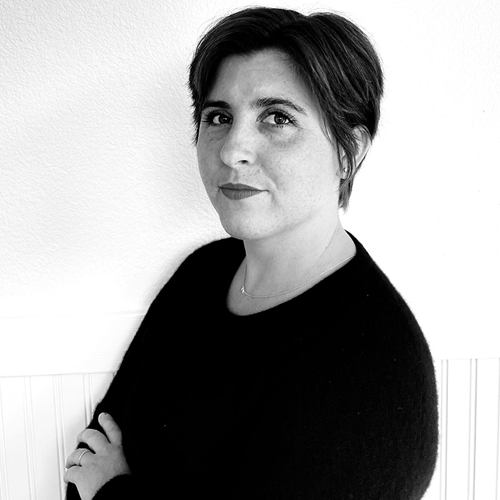 Alumni Profile
Emma Bardin
Emma Bardin is a science writing consultant who graduated from San Diego State University with her master's specializing in the teaching of writing in 2013. During her years at SDSU, Bardin was able to teach three semesters of RWS 100 and 200, which she recalls as the most iconic moment for her as she walked into Hepner Hall to teach her first class. Bardin describes how much getting her M.A. meant to her and how every opportunity has shaped her into being able to craft her career into what it is today. "My M.A. is why I have received every job since graduation, and it's why I was able to found my science writing business, Bardin Consulting," states Emma. "Be open to new opportunities of how your M.A. can impact your professional trajectory. First I was a college professor. Next an English teacher for grades 9-12. Then I was a college counselor. And now I write all things science for biotech companies. The common thread: a rhetorician who can tailor content to a given audience and goal."
One of the beautiful things about learning how to write professionally is being able to tailor the style of writing to the type of career you want. Bardin seems to have mastered this skill since switching trajectories in her path in life several times since graduating as she now writes "everything science." From website copy to case studies, leadership bios, awards submissions, thought leadership articles, blogs, conference materials, press releases, and scripts for crowdfunding videos, Bardin has used her skills from the RWS department to leverage her rhetorical training to craft content for a variety of audiences.
Bardin recalls the most interesting project she worked on thus far was drafting a case study for the biotech company Metabolon. She was able to dig deep into scientific articles and find peer-reviewed journals in order to craft multiple case studies. However, because she was left on her own to do the research without much communication from a scientist to ask questions, she "had to leverage [her] rhetorical training to comb the article for key takeaways and then employ the domain-specific vocabulary (most of which [she] had not studied previously) to craft a case study for an audience of researchers." Because of her foundations in rhetoric at SDSU and her ability to dissect the rhetorical situation, she was able to make what would normally be unfamiliar information to the public eye both comprehensive and compelling. She joyfully mentioned that "it's projects like this where I get to be a full-fledged rhetorician that I enjoy most."
From teaching, to college counseling, to scientific writing, Emma leaves us with the reminder that when looking at life through the lens of a rhetorician, it is important to remember that everyone perceives things differently. No matter what profession she is in, Bardin remembers to always reflect on a few key strategies when it comes to analyzing her next work: "take inventory of the rhetorical situation and draft content accordingly. Who is the audience, and what do they care about, what matters to them? What is the desired ethos of the author? And then draft the argument accordingly. So often writing falls short because we write for ourselves instead of the actual audience."
Learn more at bardin-consulting.com.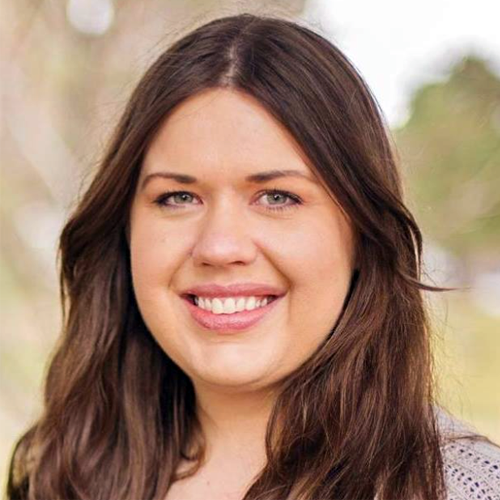 Alumni Profile
Missy Watson
As an undergraduate comparative literature major at SDSU, Melissa (Missy) Watson did not expect to fall in love with the field of rhetoric and writing studies the way that she did. After taking Professor Suzanne Bordelon's Introduction to Composition Course, Missy was inspired to pursue her M.A. in rhetoric and writing studies. "Professor Bordelon's curriculum had me sold, and her rigorous yet utterly supportive and thoughtful approach to teaching compelled me to want to study and perfect my own craft as a teacher. She told me about the M.A. in RWS and encouraged me to apply." Watson quickly found her passion in RWS and credits the program and faculty with shaping her to be the "teacher, administrator, and researcher" that she is today.
"I recall fondly learning about and applying rhetorical analysis to research articles in Professor Glen McClish's Reading & Writing Rhetorically course; contemplating "truth" in Professor Ellen Quandahl's History of Rhetoric course; challenging notions of "otherness" and "right/wrong" binaries in Professor Richard Boyd's Modern Rhetoric and Composition Studies course; and learning about and evaluating research methods in Professor Ornatowski's Research Methods in Rhetoric and Writing Studies course. These courses were all so welcoming, meaningful, and intellectually stimulating to me. And I still have all my papers that I wrote for each of these classes!"
Watson mentions how incredibly thankful she is to have been able to work with Professor Ann Johns. "What an honor it was to work with such an influential scholar in the field of Second Language Writing. Professor Johns helped me to design and implement several case studies of multilingual scholars, to make connections with potential candidates to interview, and to complete a thesis I was proud of. I ended up presenting my findings at my first major academic conference and later publishing a version of the thesis as my first solo-authored publication."
Watson also reminisces about her time studying and tutoring under Professor Michael Underwood. "This position allowed me to immerse myself in my studies, craft, and academic community at SDSU in ways I had never experienced. Indeed, as an undergraduate at SDSU, I struggled to build community and feel a sense of belonging being a transfer student new to the area and college. But because of Professor Underwood's welcoming and collegial approach, I quickly made connections with him, with peers, and with undergraduate students." Watson's passion for both composition and research is evident throughout all of her educational and professional endeavors, especially when it comes to teaching.
"I can still recall vividly the very first day I taught composition at SDSU. The spring of 2008. The class was across the bridge over College Avenue, in what's now called College Square. I opened the classroom door with my left hand, my heart pounding, as I was presented with what seemed at the time to be a sea of seated students. I saw only the back of their heads as I squeezed through a tight aisle toward the front of the class, my brand new fancy briefcase in my right hand. As I made my way and faced my students for the first time, I felt absolutely horrified that they'd know that instant that I had never done this before and didn't quite know what the hell I was doing. This spring it'll be 15 years since that first semester, and I can still remember some of their faces."
Watson describes how the lessons she learned while in the RWS program have shaped her into the teacher and researcher that she is today. She mentions that while in the M.A. program, she learned "an invaluable lesson about embracing and facing your academic fears." As a student, Watson found herself turning down teaching and tutoring opportunities — she would ignore calls looking for "tutors in the ESL composition sections" simply because she did not think it was for her. After pausing to reflect and think about why exactly she was turning down these opportunities, she realized it was because she was scared. Instead of shying away from it, she embraced her fears and volunteered to teach two ESL writing sections, ultimately falling in love with the field. "This moment of fearing unfamiliar territory, leaning into and exploring that feeling, and then facing it head on proved to be one of the most pivotal moments of my academic career." Looking back on that period of time in her life where she was filled with both curiosity and uncertainty, Watson shares three pieces of advice:
Rest assured that this program will prepare you well for your professional goals! I have heard over the years just how often students in M.A. programs gain exposure to a field's content but not experience with its practices. The RWS M.A. program provides both and really sets graduates up to succeed in their professions.
To all RWS students, not just those pursuing the teaching of writing specialization, I would recommend taking the RWS 796A: Teaching Internship course and, if possible, teaching a composition course or two. I get that teaching is not for everyone, but I also believe many professional writers would enjoy this gig. It's so engaging and rewarding! I was the only student in my cohort to specialize in the teaching of writing, and I would have so enjoyed having more colleagues in RWS join me and help provide some mentorship to other graduate teachers coming from English.
Consider getting a TESOL Certificate! I pursued this certificate and used the courses as my electives. It looks great on your resume, but more so, I've found the expertise I gained to have been incredibly useful to me as an instructor given that most students I work with are linguistically diverse.
Since completing her Ph.D. in composition and cultural rhetoric at Syracuse University, Watson has incorporated writing through her research and teaching in many ways. She is currently a tenured associate professor of English at the City College of New York, as well as a teacher of composition, and has many academic publications with "more than 15 articles in print and one edited collection, 'Literacy and Learning in Times of Crisis.'" Watson expresses that she enjoys working with colleagues on publications — one example being an article explaining personal experiences from teachers who are pursuing "raciolinguistic justice."
Currently, she is working on a "student handbook titled 'Not Your Mom's Handbook on Your Language and Writing,' an edited collection on social justice approaches to addressing language in teaching college composition, and a book chapter on the connections between basic writing and translingual writing."
Alumni Profile
John Berry Jr
As a recent SDSU graduate, John Berry Jr. has earned his bachelor's degree in rhetoric and writing studies and is now pursuing a career in local and state government. He mentions that he wants to utilize the skill sets he learned in the RWS program and put them toward being able to "assist in the implementation and roll out of government programs and policies that will help my community. I hope to use my degree to create effective terminology and channels of communication between the government and its citizens."
Thanks to the program he describes as "the only one of its type in the Cal State system," Berry found that he was able to use this degree to pursue a number of job opportunities. From his growing interests in film and visual media, to campaign managing and political strategizing, Berry felt that rhetoric could prepare him for these careers, which require direct, precise, and intentional persuasion.
He recalls how "the term rhetoric also piqued [his] interest because at one point [he] only thought of it within the political realm and as a negative connotation"; however, "after reading the course list, [he] became drawn to the flexibility of the courses, from digital rhetoric to professional writing and editing."
When asked about his favorite RWS course over the duration of his time at SDSU, he jokingly replied, "I can't pick, that's like picking a favorite kid!" Nonetheless, he made a point to mention how grateful he was for the smaller class sizes that created "riveting group discussions that [he] found very enlightening." In addition to how useful he found the class structures to be, he reflects on the most useful skills he picked up from his professors — one being how he learned how to "separate [himself] from [his] writing," and how "shifting perspectives helped [him] recontextualilze [his] own writing and refine [his] work."
Berry's advice to anyone looking to join the program is to not feel intimidated by the unfamiliar name: "the most exciting thing about the program is how approachable it is. I've never felt scared to reach out to a professor for help and from the start they were always helpful." He adds that, "even if it's not a major for you, the classes you take could help you figure out what you really want to pursue. Learning about Plato and Pepsi could make you realize you want to go into philosophy or business marketing."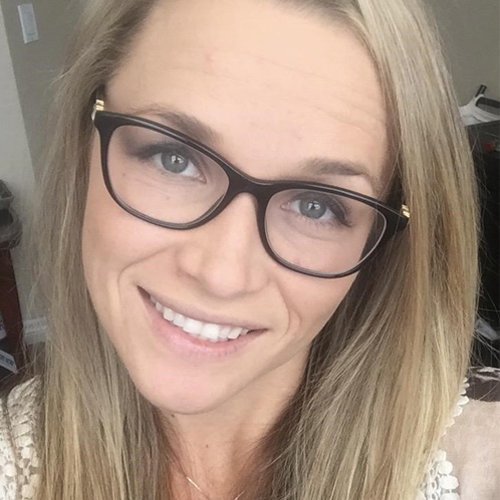 Alumni Profile
Jenny Varrichio
As a current senior instructional design consultant at UnitedHealthCare, Jenny Varrichio reflects on her time as a student in SDSU's master's program and is grateful that her degree has aided so much in her current field of work. Varrichio recalls stumbling upon the RWS curriculum and mentions that "it was exactly what I was hoping to find." In terms of how the program helped her professionally, she specifically acknowledges how she learned to "write and communicate in a way that can be impactful and concise. I was able to apply my writing skills when I went back for my doctorate as well." After graduating from SDSU in 2011, Varrichio did her doctoral work at Capella University.
Varrichio explains that throughout her time in the RWS master's program, her perception of writing was constantly changing. Thanks to one of Glen McClish's classes, she was able to learn about different approaches to writing. After an activity that included reading a piece by Daniel Chandler, she describes how "the article introduced different perspectives that individuals might have when approaching a writing project. Some tended to approach writing like a bricklayer. Others could approach writing like an oil painter. The characteristics did not bind one person to a specific strategy, but explored different perspectives and approaches that may be taken. It was a great read not only to use for self-reflection, but also to open my mind and learn more about how others may perceive and address something simple like writing and editing a prompt."
Giving thanks to another instructor who she thought made an impact on her understanding of rhetoric, Varrichio recalls Cezar Ornatowski's philosophy on how visual rhetoric is just as important as the written component alongside it. She mentions how "in his class we learned how to examine spaces, design, and things like propaganda to determine what rhetorical tools are being used. After the program, I went on to develop elearning materials and I am now using visual rhetoric in my courses all the time!" Not only was this course a standout in her memory during her time at SDSU, but it also was able to help her decide what to do with her career path.
Varrichio jokes that aside from "constant emails and instant messaging communications," she consults on process documentation for the business and writes a lot of different learning materials. Outside of her main career, Varrichio serves as a board member for the Federal Government Distance Learning Association with her role being digital communication management. She designs and writes newsletters that go out multiple times a month. Most often promoting webinars, but sometimes including learning resources for those looking to enhance or strengthen their elearning approaches. Had Varrichio not discovered the RWS program, she might have not fallen down this rabbit hole of opportunities.
When asked about her most interesting project, she pokes fun at her writing saying that "while [her] dissertation was the most interesting project, the dissertation itself is super dry." However, Varrichio speaks with great interest of the current work she is doing along with everything that went into her accomplishments. The preparation focused on qualitative studies that explore the experiences of instructional designers from around the world who employ formative assessment activities within game-based learning courses. She talks about how gauging the audience's intrinsic and extrinsic motivations was essential to the design of the game and how the learning elements that included a narrative of some sort was the most effective, allowing researchers like herself to peer into the process of learning through the lives of adult gamers.
Nonetheless, she reflects proudly on her work and chooses to focus on what the dissertation symbolized and how the action of completing it "represented a life milestone." Jenny realizes that it was essentially a culmination of everything she learned in her writing career — from essays, technical papers, summaries, newsletter articles, job aids, etc., that made it worth every demand and time-consuming effort as in the end it was incredibly rewarding.
Grateful for her time at SDSU, advice Varrichio would like to pass to any other future and/or current M.A. students includes:
Read everything.
Support others.
Work in time for peace and reflection — really think about how your learning materials are impacting you. You might learn more about yourself, your passions, what really inspires you and where you want to go next.
Keep learning — seeking opportunities to learn does not have to stop when you finish the program. You finish this program as a professional writer and academic with more tools to use to keep building knowledge and skill. It would be silly to box up all these new tools you have and not use them just because you finished a degree. Enjoy what you have accomplished and have fun learning more!
Meet the Editors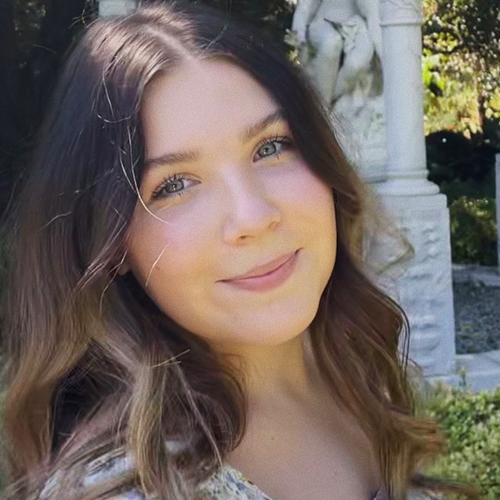 Noelle Higgins
Noelle Higgins is currently a third-year undergraduate Rhetoric and Writing Studies student. She will be studying abroad at the University of Kent in England in spring 2023.
Celia Fisher
Celia Fisher is currently a second-year undergraduate student majoring in Rhetoric and Writing Studies. She will be studying abroad at the University of Strathclyde in Scotland in spring 2023.