Spring 2022
The SDSU Rhetoric & Writing Studies Department Newsletter
Letter from the Chair
In my "Letter from the Chair" for the Spring/Summer 2021 RWS Newsletter, I wrote, "The last three semesters have been unlike any I've experienced in my many decades of university life." One year later, unprecedented experiences have continued unabated; we are still having to "rethink and refashion our most basic ways of being students, teachers, staff members, and administrators." The roller coaster pandemic tears along its invisible track, surprising us with each rise and subsequent fall. Based on my reading of the department, we're getting better and better at teaching under the uncertain conditions created by a plague with a mind of its own, although we all continue to worry about its effects, both long and short term, on our students. I have been so impressed by our instructors' efforts to help students through their courses and am heartened by our students' resilience and grit.
Our 2022 graduates, whom we honored at our department graduation celebration on May 13th (our first in-person graduation this decade), deserve special recognition for persevering to degree through four (and in many cases five) unsettling semesters. I list them here:
Bachelor's Degree recipients: Erik Acosta, Lindsey Anderson, Kassandra Beltran, John Berry, Meghan Ellis, Noah Goldbloom, William Hale, Justin Kim, Fangchuan Liu, Chelsea Nunez-Tello, Agnes Szakacs (co-editor of this Newsletter issue!), and Summer Ycasas. (For more on Summer, see the spotlight, below.)
Master's Degree recipients: Jennifer Davis, Nicole Golden (a former Newsletter co-editor!), Eirein Gaile Harn, Alicia Leon, Jennifer Lavasseur (Ponce), Daniel Rodriguez, and Anthony Toledo.
I'd like to take some space to honor three colleagues about to retire from RWS: Robin Avner, Carl Fielden, and Rhonne Goodman. Robin, whose dissertation work at Johns Hopkins University investigated the great nineteenth-century British novelist George Eliot, began teaching for RWS in 2005. Over the years, she has taught RWS 100, RWS 200, RWS 280, and RWS 305W. Her courses are distinguished by sophisticated critical inquiry. Robin has quietly and expertly gone about her work, diligently teaching decades of students how to both interrogate and produce a wide variety of texts.
Carl's long career as a San Diego State writing instructor began with Academic Skills, the department that preceded RWS, in the 1980s. Since coming over to the new RWS Department in 1993, he has taught a wide range of classes, from developmental writing to the 500 level, and has held several important administrative positions, including assessment coordinator of the old developmental writing exam/portfolio and most recently WPA coordinator. One of our dedicated evening instructors, Carl comes to campus when most of us have called it a day. Over the years, he has acquired Master's Degrees in Linguistics and Education, and has just completed a third in Rehabilitation Counseling, all from SDSU. (For more about Carl, see the spotlight, below.)
Having completed her Master's Degree in English at SDSU, Rhonne joined us as a lecturer in 2001. Like Carl, she was a stalwart developmental writing instructor, but she has also taught the standard lower- and upper-division courses for us. Shouldering five classes per semester for many years, Rhonne has taught thousands of students to read, think, and write more effectively. Her teaching style has been distinguished by her unique brand of tough love, supportive but clearly structured and firm. Long a member of the department's early bird club, Rhonne has roamed the halls when many of us are still waking up.
As I close this message—as well as my twenty-third year at SDSU and twentieth as your chair—I want to express my gratitude for Robin, Carl, Rhonne, and the many many colleagues and students I have had the opportunity to work beside, teach, and learn from. I wish all our readers a summer of good health, renewal, recreation, and reengagement.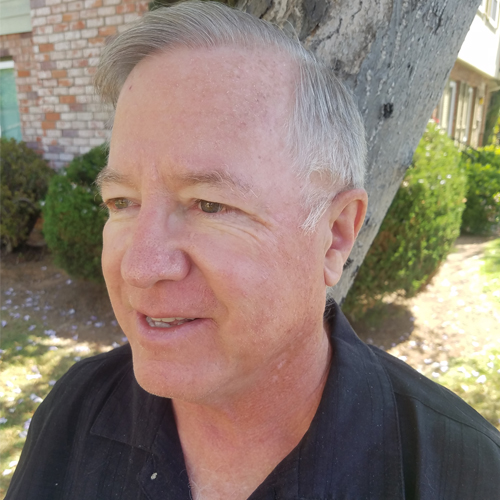 Faculty Spotlight
Carl Fielden
Carl Fielden is a man of many skills. He earned his first degree in music and focused on music therapy, building from his plan, at the age of 10, to become a classical musician. While he was attending Ohio State University, he joined the ROTC program, and after he graduated, he was an infantry officer on active duty for three years. During his active years, he had the opportunity to go to Korea. There he became aware of not only the country, but of teaching English as a second language. After he left active duty, he sought and earned a master's degree in linguistics and TESOL. This is when Fielden started to teach writing to non-native English speakers at SDSU and Cuyamaca College, in addition to teaching native English speakers at City College and UCSD. His turn to teaching was inspired by an excellent high school teacher who had a great influence on him. Through her, he gained a desire to teach composition and rhetoric–even though she warned him to never become an English teacher, while showing him her briefcase with 80 or more ungraded papers. Fielden took this as a dare. And he now calls himself "an accidental college and university instructor."
Carl has been teaching writing at SDSU since 1985. While working on his graduate degree in linguistics, he taught his first class as a teaching assistant through the Academic Skills Center. This center was used for "teaching developmental courses in writing, reading, and mathematics" and was later integrated into the newly formed RWS Department in 1993. Fielden has also worked at what is now known as the Student Ability Success Center.
As part of his work, Carl has explored the integration of technology in the teaching of writing. In the last 10 years, he has focused on principles of universal design for learning, commonly known as UDL. In the future, he plans to conduct research on "designing inclusive, engaging environments that enhance the learning, retention, and graduation of students with disabilities" at Grossmont College.
Fielden understands that for many students writing can be an obstacle, sometimes even a traumatic one. In his teaching, he works to break down these barriers and "help students develop their own natural composing styles and practices" that they will be able to work with after graduating. Students know that Fielden wants what is best for them as many have written in their course evaluations that Fielden is approachable, encouraging, and that he cares deeply about them. He has also received a comment frequently: "Finally, a writing course that is useful!" In 2021, Fielden received the Teaching Excellence Award from the College of Arts and Letters. However, he sees his students' successes as writers as an even greater reward: "I could have never planned a more satisfying career. I will miss teaching at SDSU very much." Carl Fielden will be retiring in June of 2022.
We wish you the best of luck and a happy retirement! The RWS Department and the students of SDSU will miss you very much and thank you for your work!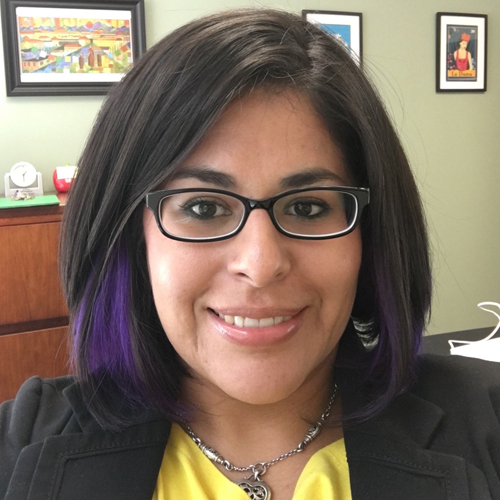 The Landmark Lecture
Consuelo Salas offers her insight on the department's annual research and pedagogy presentation
Dr. Consuelo Salas has just completed her second year as an assistant professor at San Diego State University, and she has very quickly made her mark on the RWS department. After earning her bachelor's and master's degrees in English Literature at the University of Texas at El Paso, she recalls that she took an introduction to Rhetoric and Writing Studies course and was then inspired to earn her doctorate in Rhetoric and Composition Studies at UTEP. Since then, she has become extremely involved within the field of rhetoric.
In discussing the annual RWS Landmark Lecture, Salas eagerly explained that the lecture has been occurring since 2003 and it "invites prominent scholars in Rhetoric and Writing Studies to discuss research and pedagogy in this field." The Landmark Lecture allows for those within the field of rhetoric who are doing "interesting and important work" to share their current research, which creates a strong learning environment for those who are in attendance.
When asked about her involvement in this year's lecture, Salas explained that as members of the anti-racist working group within the department, she and Karen Koss began discussing Dr. April Baker-Bell's book, Linguistic Justice: Black Language, Literacy, Identity, and Pedagogy, released in 2020. Both Koss and Salas found Baker-Bell's work to be incredibly inspiring and decided that they would like to not only read her work but try to bring her to speak at the annual Landmark Lecture. Through these efforts, Salas and Koss applied and were awarded three internal grants: a College of Arts and Letters Instructional Related Activities grant, a Dean's Excellent Endowment Wendelmoot Memorial grant, and a Justice Equity and Inclusion mini grant. It was through the support of these grants that Salas and Koss were able to bring Dr. Baker-Bell to speak.
In the lecture itself, Salas explains that Dr. Baker-Bell "advocates for critical linguistic awareness of black language" and that her research is "pushing us, as writing instructors, to interrogate our own relationships with language and position ourselves as learners." Dr. Baker-Bell's work within her text, as well as in the Landmark Lecture, "works on educating us on what black language history is," and it allows for the audience to ask the important questions "about the conditions of which it was created, how it has moved over the last centuries to now, and how we teach our writing classes today." Salas mentions that this lecture inspired her to make tangible changes within her classroom. "I think that is maybe the key takeaway, that as an instructor, even though I already have my doctorate and I am already teaching, I still have room to continue to learn so that I can continue to be an effective instructor of writing." If any readers are interested in learning more about these concepts, you can find an electronic copy of Linguistic Justice: Black Language, Literacy, Identity, and Pedagogy in the SDSU library.
In regard to the lecture, Salas mentions that it was incredibly impactful to have Dr. Baker-Bell share the concepts that she discussed within her book. Salas expresses that the talk was very "informative and groundbreaking in that [Baker-Bell] is really talking about black language and giving us the ability to see how black language is already a part of culture, even though we did not previously have the framework to be able to name it as such." Salas states that Dr. Baker Bell ended her lecture on a series of provocative questions, and she recalls a moment where she, as host of the meeting, was at a loss for words as she was just "sitting with what she was asking of [them]." The valuable lessons learned within the lecture served as great inspiration for the future of the RWS program as a whole.
In addition to the work bringing Dr. Baker-Bell, Salas explained that she and her colleagues were also awarded an NEH grant, "Creating Expansive Approaches to Teaching Writing in a Southern California Border Region." As part of the work of this grant, more speakers will be invited to share with the SDSU community "their own research and how we might apply it to what we are already doing in our teaching of writing."
In concluding the interview, Dr. Salas offers some incredibly valuable advice. She states that "if you are interested in the field of Rhetoric and Writing Studies, my advice would be to think about the idea that all groups around us have created communication practices which are already unfolding or already occurring, and to take a look at what those are for yourself, take a look at what those are for the communities that you are in, and then acknowledge that the field of rhetoric can continue to expand when you think about our own communication practices and those of our communities." For current RWS students, Salas encourages students to reach out to their professors and let them know their career goals and interests and "for anybody else reading the newsletter" she would like to encourage them "to take a look at Dr. April Baker-Bell's book."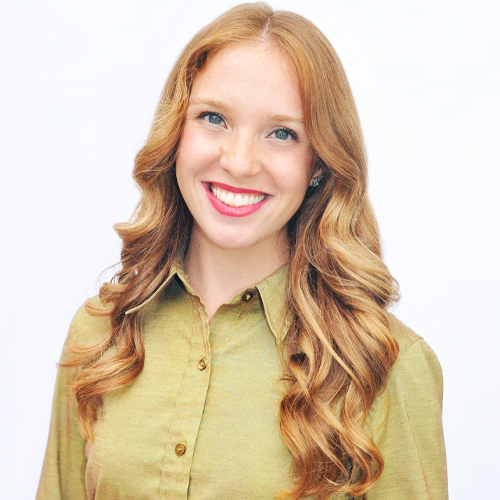 The Writing Mentors Program
How the RWS Writing Mentors Program impacted Lea Baker's personal and professional life
Lea Baker is a Creative Writing MFA alumna from SDSU. With a passion for writing, Lea has made her mark and journeyed through several different paths prior to becoming the co-coordinator of the RWS Writing Mentors Program. Baker first stepped foot in the field of rhetoric in January 2015, when she became a TA. She mentioned that this was a defining moment in discovering her love for teaching that has led her to her role as an embedded tutor—something she is exceptionally passionate about. Baker has "slowly worked [her] way into a full-time position at San Diego State through working with community colleges and private high schools," which was an experience she described as a stepping stone for the teaching track she was looking to engage in.
The Writing Mentor Program is a chance for "students to become critical and reflective writers through an enriched collaborative experience." Open to both undergraduate and graduate writing students, the Writing Mentor Program embeds students within a classroom so that they can be mentored by instructors and improve their pedagogy by working with students one-on-one. Baker mentions that the overall goal is to "have instructors and students all work together to learn communication skills, pedagogy skills and learn how to mentor as well as tutor—something everyone can benefit from." She thinks of it as "the best job ever! You get paid to attend class and then you get paid to tutor people after!" Not only are you enriching your knowledge of writing, but you are also gaining in-person experience that cannot be taught elsewhere.
Despite her love for teaching, at one point in her career, Baker admits to being nervous about taking on such a big role as "[she] liked writing, but [she] didn't necessarily like standing in front of a classroom." However, Baker recalls, "This program gave me that confidence and it also got my foot in the door." The embedded tutoring program at one of the San Diego Community Colleges was actually Baker's first job after graduating, which assisted her into the position she has now. She describes the opportunity as benefiting both graduate students as well as undergraduate students who are looking for a way to start building their resume and gaining experience.
While discussing how hard it was to get a job somewhere that specializes in writing, Lea took another approach and spoke about how her time in the medical field actually aided in her work experience. "I worked at a physical therapy office because I struggled a lot to get hired at the local library, but I got accepted at a lot of medical facilities because they need people to do the documentation. I was assigned with a physical therapist and I would write what they were doing and check off lists because it all has to be noted. I think writing majors have a big advantage because no matter what field you go into you need to be able to express whatever you're doing to someone else." The Writing Mentor Program allows for students to gain writing skills like this and teaches them how to apply them anywhere, which actively broadens the workplaces in which they can be accepted into.
Lea, like many other English majors, recalls being frequently asked if she was going to be a teacher because of the uncertainty of finding a job with the major. Her answer was the same every time: "No!" However, she speaks so positively of her experience and transition in becoming a core part of the embedded tutor program that now she "can't imagine doing anything else." She concludes, "Any student, whether they are graduate or undergraduate, can apply for this program. While it is very helpful for students who want to go into teaching, it isn't exclusively for that. We also have Econ majors who worked with us to be a mentor; essentially anyone who has passed an undergraduate college writing course can apply to be a mentor."
Lea thanks SDSU for taking her under their wing and always encouraging her to push herself in her career. With countless pieces of advice given to her over the years, Lea hopes to give some tips back and urges those who may feel conflicted about the program to "just give it a try" as "everyone benefits from this." Anyone interested can apply for this program.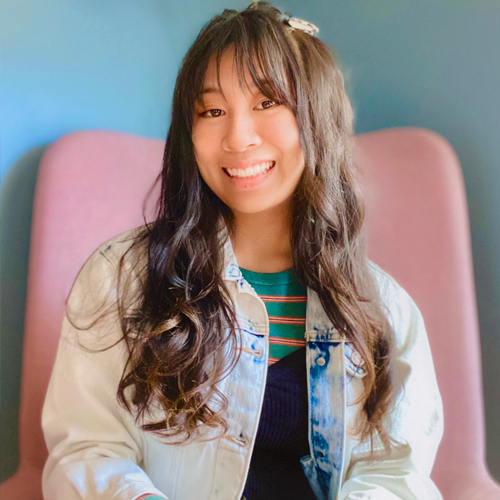 Student Profile
Summer Ycasas
Summer Ycasas has just completed her BA in Rhetoric and Writing Studies. She first took RWS classes when she enrolled in first-year composition during her first semester at SDSU. However, at that time, she did not know there were more than just 100 and 200 level courses. Later, as Ycasas realized her linguistics major wasn't a good fit for her, she thought back to those RWS classes: "I really enjoyed taking RWS 200 as a freshman and realized when I first thought about changing my major that I could be studying something I not only enjoy but excel at." It was then that Ycasas enrolled in RWS 250 and began her path through the major with a focus on writing, about which she has always been passionate. After she graduates, Ycasas is planning to pursue work in technical and professional writing or editing. Given her love of writing, it's not surprising that she says, "I enjoy practically every kind of genre of writing I've dabbled in during my time here at state."
In thinking about her favorite RWS classes, Summer notes, "Any and every course that Jenny Sheppard has taught!" Those courses include RWS 250, 543, and 504. She is especially appreciative of the design skills she has learned as a part of studying both rhetoric and writing. These principles have made it easier for her to use and navigate her notes, essays, proposals and other projects. One thing Ycasas wished people and other students knew about the RWS Program is that it is more than just writing essays for classes. She acknowledges there is a lot of writing involved, of course, but also sees the major as engaging students in useful genres such writing reports, proposals, infographics and emails. Ycasas ends by saying, "The RWS program really lets you stretch your wings as a writer and shows you just how instrumental writing is in so many places."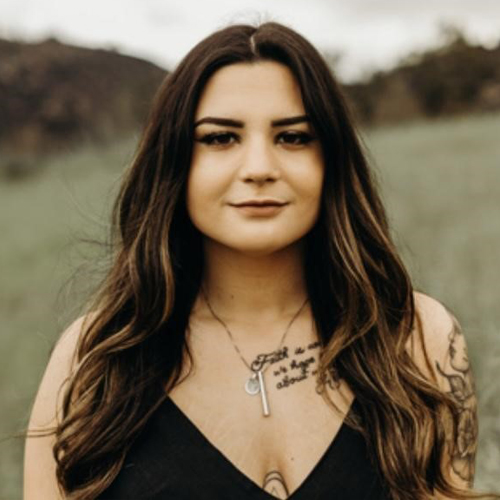 Graduate Student Profile
Mikayla Garcia
Mikayla Garcia is a current graduate student at San Diego State University and is earning her Master's in English American Literature. However, she is also connected to the RWS Department as she states, "Essentially, I am very embedded in the RWS department!"—a perfect way to describe her work as an RWS mentor or embedded tutor. Garcia discovered the RWS program at SDSU through a friend of hers. Because the friend knew Garcia had a passion for teaching, she thought it would be a great fit for her. Garcia applied for the job and has been working as an RWS writing mentor through Fall 2021. In addition to working as a mentor, Garcia taught RWS 200 in Spring 2022 through the department's graduate teaching program.
Garcia earned her BA in Literature and Writing along with History as her minor from California State University San Marcos. Through her undergraduate studies, she obtained skills from the Literature and Writing Department that allowed her to have the opportunity to work and tutor for three years at CSUSM's Writing Center. The students whom she tutored used skills similar to those taught in RWS courses. As for her time with RWS, Garcia thinks it is "great to be involved in a department dedicated to helping students better understand rhetoric and the writing process."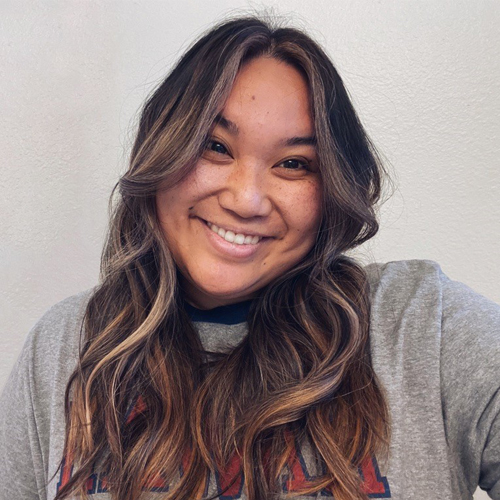 Graduate Student Profile
Eirein Gaile Harn
Eirein Gaile Harn just completed the RWS MA program on the teaching track. She earned her undergraduate degree at SDSU, double majoring in Sustainability and RWS while serving as a writing mentor as well as the director of communications for the RWS student chapter of the Rhetoric Society of America. She has made a name for herself as a member of the lower-division writing program team, a graduate representative on the RWS council, RSA VP, as well as a teaching associate.
Despite all of her accomplishments and positions held at SDSU, when asked about her initial involvement in RWS, she mentions that it was a bit of a rocky start due to an unfortunate personal situation that put a damper on her relationship with writing. However, Harn was eventually able to rebuild that relationship when she took RWS 200 course during her first years at SDSU.
Thanks to a caring professor, Harn remembers her self-confidence as a writer finally beginning to blossom. While she still had moments of self doubt, sometimes questioning why he believed in her, she took his advice to consider further studying RWS. His kind words meant so much to her that she ultimately took a leap of faith and decided to pick it up as her second major.
When once again asked to make a decision furthering her education, Harn thanks Dr. McClish for being a deciding factor in joining the master's program. With her focus on high school teaching during her undergraduate years, Harn was almost ready to go down that path had she not felt as if she needed more time to prepare. She remembers feeling like she "wasn't ready to be done learning." She then turned to Dr. McClish and was encouraged to take the graduate-level RWS 601 class to see how she felt about potential grad study. Harn mentions that it was a turning point for her and that she realized that "there was more to learn and do in the MA and [she's] honestly so grateful for the opportunity."
Moving forward with her work, Harn has decided to share some current research topics she is pursuing, the first being the study of names (onomastics). She mentions in her thesis titled "'That Doesn't Strike Me As Filipino': Navigating Names, Cultural Identity, and Rhetorical Onomastics" that she "called on the field of rhetoric to formally acknowledge rhetorical onomastics. There is so much scholarship around the significance of names in other fields, but I hope to shepherd those discussions into the field of rhetoric with a cultural/decolonial rhetorics lens." Her second project is relating to her current job as a writing instructor that involves trauma-informed approaches to writing pedagogy. She is also "always looking for opportunities to visibilize Filipino and Filipino-American culture, and to share [her] experience as a Filipino person living in the United States."
With regard to her future and applying everything she has learned here at SDSU, she hopes to continue teaching composition at the collegiate level. While reflecting on her journey, Harn humbly states, "I've had the opportunity to teach in the RWS department for three semesters during my MA, and it has been the most challenging and rewarding thing I've ever done. I love teaching writing and working with students, and I hope to do that for a very long time."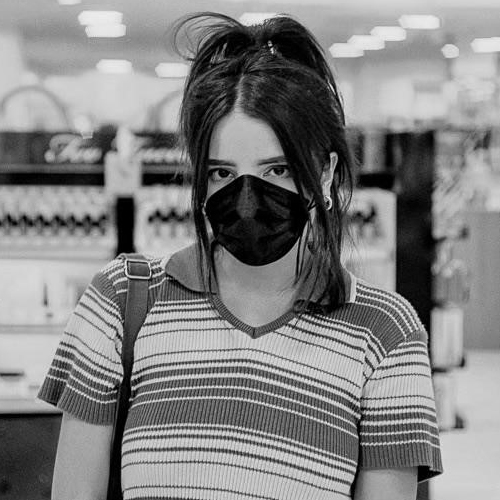 Alumni Profile
Sarita Tanori
Sarita Tanori is a former graduate student of the RWS program and is currently an RWS and Chicana and Chicano Studies lecturer here at SDSU. All of the classes that she teaches have a central focus on writing, with her CCS 200 course and her CCS 396W course also focusing on ethnic studies. She explains that she teaches more classic RWS classes as well. She notes that she is "constantly surrounded by writing, but in different facets which keeps [her] work fun and exciting." Outside of her main teaching career, Tanori is a creative nonfiction writer, a genre and practice she describes as "a transformative tool for building a community and making space to heal." She is dedicated to her own personal growth as a writer both in public and private as she continues to build upon her knowledge in the writing field.
As a longtime lover of writing, Tanori is glad that she found guidance at SDSU through the RWS program. The course offerings are so broad that they allowed her to experiment with subjects that she might have never learned she enjoyed—teaching being at the top of this list. She mentions—with a special shout out to a particularly exceptional lecturer, Jamie Madden—that it is because of the fantastic mentors, faculty, and staff within RWS that she was able to thrive and be guided in the field of academia that is not always so forgiving. A fear of hers was that because of "the westernized and white hegemonic framework applied to mainstream professionalism," the professional world would feel depersonalized. However, thanks to the caring souls she met on her journey at SDSU, she never felt the pressure of trying to find her way in a professional environment.
Like many, Sarita was initially unfamiliar with how widely applicable rhetoric is when she first joined the RWS department. However, through the teachings of one of her favorite professors, Jenny Sheppard, she has come to recognize that "everything is rhetorical." A couple of Tanori's favorite courses while in the SDSU graduate program included History of Rhetoric with Dr. Glen McClish and Writing Center Practice Theory with Dr. Kathryn Valentine. While she was fascinated with the material from the History of Rhetoric course, describing it as "interesting and arduous," it was the Writing Center course that particularly stood out to her and ultimately "helped define [my] pedagogy." Tanori mentions that a major takeaway from the RWS department is that she has learned how to "analyze [her] decisions while navigating adulthood and a professional career."
As Tanori looks back on her time before earning her MA, her work as a newly employed Teaching Assistant is what most fondly stands out in her memory. She recalls that this particular experience is what made her switch her focal point from professional writing to teaching—an experience she positively refers to as "a distinct adrenaline rush." Tanori speaks about how this was a time of growth for her and how she relished in the opportunity to not only teach for the first time, but learn how to make mistakes in a forgiving environment. Her frequent feelings of understandable anxiety were mitigated through the bonds she made with fellow instructors who ranged from newbies like herself, to veteran instructors who graciously shared their words of wisdom. Sarita is grateful for this experience and thanks the community she built with these people that "made the experience easier, and helped me parse out and process all of the emotions that came with this first."
While earning her MA, Tanori notes that her thesis was a very "challenging and rewarding" aspect of her experience in the RWS department. Sarita mentions how grateful she is for her thesis chair, Dr. Katheryn Valentine, and that she was a great support system for her as she was writing her thesis on emotions and vulnerability in rhetoric. Unfortunately, Tanori's work on her thesis was stunted due to the start of the pandemic back in March of 2020. "The overwhelming grief of the pandemic made it difficult to write or think, so I took extra time in graduate school to focus on finishing my thesis," states Sarita. However, all of the unknowns in the world during that time allowed Tanori to gain more patience when it came to her thesis, and ultimately "see [her] vision through and do [her] participants justice."
When asked if she had any advice to give to younger students or anyone pursuing a career in the field of rhetorical writing, she humbly stated that while she thinks doesn't have a whole lot of wisdom to share, she does believe that "you should always try to tie in your interests and hobbies into your rhetoric work." Tanori expressed this core idea in a story dear to her heart about her most interesting writing project. Sarita explained her archival zine project that was based on her mother's migration story from Sonora, Mexico. She expressed how important writing this piece was to her, and that she learned so much from her mother's story. Tanori cherishes this writing project, which taught her "about the value of oral traditions and archiving the narratives of our loved ones," and how rhetoric has the power to tie together universal cultural, personal, and educational values.
Alumni Profile
Erica Mosely
Erica Mosley is an undergraduate alumna of SDSU and is using her degree in rhetoric to switch over to the field of marketing as a manager and freelance communications consultant. She writes for multiple organizations' social channels, manages email marketing, as well as websites. Mosley mentions that "an important lesson [she's] learned from studying RWS that has helped [her] tremendously is knowing how to write in different contexts," which luckily, she has gained plenty of experience in doing through her line of work.
Since completing the program, Mosley recalls another crucial lesson that stuck out to her: the importance of critical and analytical thinking.
She describes it as "by far the most helpful [skill] as [she's] transitioned from being a writing tutor, to a career coach/program coordinator, to now a marketing manager." She shouts out one of her favorite professors, Dr. Jenny Sheppard, for showing her how to think outside of the box in addition to challenging her in classes that she wouldn't have normally taken. Mosley mentions that because of one of Dr. Sheppard's courses, she was able to experiment in graphic design that ultimately led her to grasp the concepts that would lead her to her current job. She describes this favorite course of hers as "challenging . . . but extremely practical and useful."
Professionally, Mosley is proudest of her work that included "writing 100 days worth of emails that would convince corporate executives to center racial equity at the core of their business strategies." Mosley's rich background in rhetoric aided in her ability to use the art of persuasion to her advantage. Personally, though, she hints that her proudest moment was her project that entailed a 15-page analysis on a single song by hit singer, SZA—an assignment she described as "daunting, but very rewarding."
Looking back at her time here at SDSU, Erica has nothing but positive impressions to share. With gratitude towards the professors at the university as well as the Department of Rhetoric and Writing Studies, she reflects fondly on the connections she made in addition to the opportunities she had to follow her passions. When asked if she had any advice to give to current students, she confidently said to "trust your instincts and stand firm in your power. You're gaining invaluable, applicable, and transferable skills in this program that can take you a long way."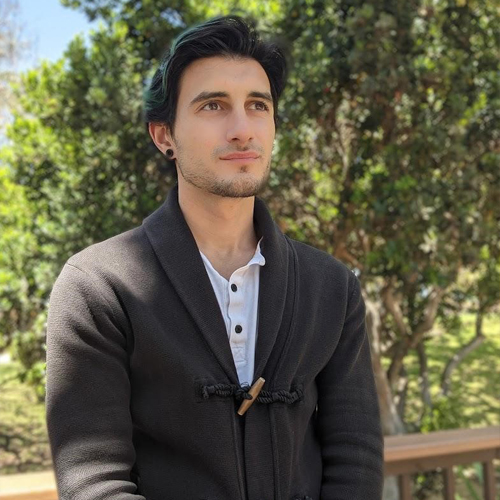 A Focus on Staff
Matthew Gantos
Matthew Gantos earned his BA in journalism and he has been working with the RWS Department since 2018. He says that the best part about working at SDSU is "working at SDSU." He sees people enjoying their work and taking pride in what they do, specifically because it has value. Gantos views education as an "important pillar of our society." In addition, he enjoys the beautiful campus he visits every day. Gantos noted that being able to earn his graduate degree while working at SDSU is the second best part; he is currently enrolled in the MFA program in television and film.
Gantos has been drawn to writing ever since he was young, especially when music was involved because he "liked listening to song lyrics and figuring out what they meant." Later on, he would think critically about what made someone choose certain words and why they would choose that instead of something else. In addition to seeing rhetoric in songwriting, Gantos also sees it in screenwriting, because every film has an argument or message behind it.
Speaking of the challenges that come with trying to balance work, classes and life, Gantos is optimistic: "The university and our department staff are all incredibly accommodating when it comes to supporting further education." Along these lines, something Gantos has observed working in RWS and wished he knew earlier as a student is how human instructors are. He mentions that especially with a department filled with writers, "you can find a group of well-spoken and intelligent people, that are also . . . just people." Sometimes when he was an undergraduate student, Gantos viewed instructors as detached. However, after working with the department, it reminded him they are people who may be "accomplished and intimidating" at times, but at the "end of the day they are good people."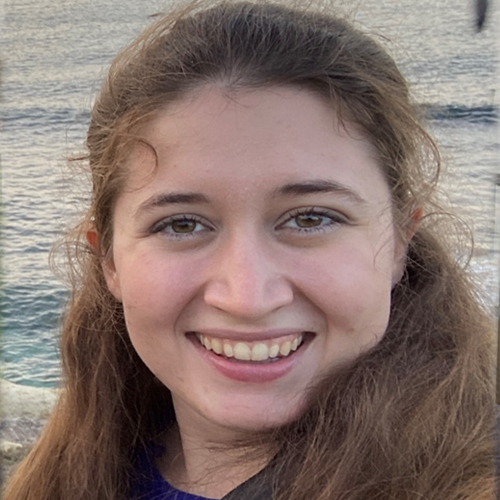 Agnes Szakacs
Agnes graduated from SDSU with a Bachelor's Degree in Rhetoric & Writing Studies in Fall 2021. During the fall semester, she interviewed subjects and wrote a number of the articles featured here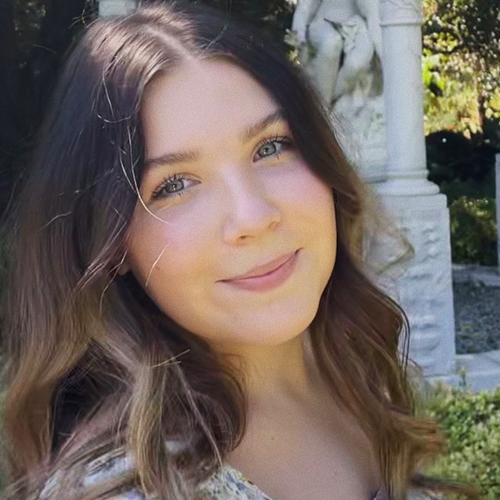 Noelle Higgins
Noelle Higgins is currently a second-year undergraduate Rhetoric and Writing Studies student. She greatly enjoyed her time working on the Spring 2022 newsletter alongside her co-editor, Celia Fisher. Noelle is especially thankful for this opportunity to grow as a writer and to gain new and important perspectives from each of the interviewees.
Celia Fisher
Celia Fisher is currently a first-year undergraduate student majoring in Rhetoric and Writing Studies. After becoming a co-editor during the Spring semester of 2022, she worked on interviewing subjects, as well as writing, editing, and revising the newsletter alongside Noelle. Celia hopes to continue to practice writing in the future and gain more experience in the field of rhetoric. She thanks Dr. McClish for this opportunity and has sincerely enjoyed her time working for the department.