Amber Anaya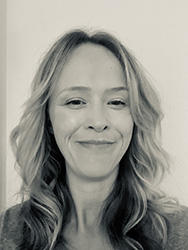 Lecturer; Business Writing Coordinator
Office: Storm Hall 120B | Email: [email protected]
I have been a lecturer in the Rhetoric and Writing Studies department since 2015. I usually teach Business Writing, Professional Writing, and Writing in Various Settings, but I love all things related to rhetoric.
Prior to joining SDSU, I worked in the corporate and nonprofit world as a content strategist, writer, editor, and consultant. I also taught part time at various universities and colleges in the San Diego Area. While my time writing for businesses and other organizations was dynamic and rewarding, I began to enjoy teaching and connecting with students more than working in a cubicle or board room. I still do some consulting work from time to time, but most of my professional life is now in the classroom.
I am originally from Costa Mesa, but I have been in San Diego for nearly 20 years now. I love San Diego—the bustling communities, the arts and theatre in the city, and of course the beaches make it easy to call San Diego home. In addition to teaching at SDSU, I am a certified Pilates instructor and Barre Above instructor. I enjoy running, hiking, nature, and spending time with my pets and my husband.