Cali Linfor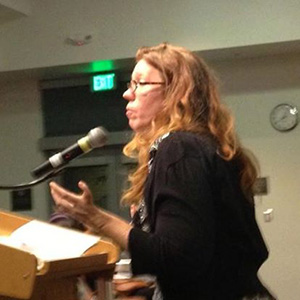 Lecturer
Office: Storm Hall 108C | Email: [email protected]
Cali Linfor (she/her/hers) is a lecturer, activist, poet and essayist. A mother and a widow. An animal lover, an all purpose nerd, and a bookworm. Raised in Riverside, California, she hated school but liked learning. Poor, dyslexic, and born with Duane's Radial Ray Syndrome, she found school wasn't much interested in her either.
Somewhere along the way, Cali fell in love with the power of language and texts and wanted to share that power with others. She attended community college before transferring to UCLA, where she majored in American Literature, minored in Women's Studies and Native American Studies, and graduated with Highest Honors. Cali adores transfer students, having been one herself. She began teaching in the Department of Rhetoric and Writing Studies at SDSU in 1996 while pursuing an MFA in Creative Writing.
Cali served for sixteen years as poetry editor of Epicenter Literary Magazine. She has published poems, articles, essays and short stories in The Beloit Poetry Review, Manzanita Review, Ekphrasis, and others. Her book of poetry A Book of Ugly Things, appears in Lantern Tree: Four Books of Poems which won a San Diego Book Award. She is a member of the American Writing Program's Disabled Writers Caucus.Currently, Cali is completing a second book of poetry entitled I, Animal.
In addition to teaching composition, creative writing, critical reading and thinking, and rhetoric, Cali has dedicated most of her professional life to the fight for educational equity. When not working with her SDSU students, Cali collaborates with faculty from elementary school to university to make education fulfill its promise of inclusion and access to knowledge and skills for all of us.
Cali is a proud member of SDSU's Pride and Disability Employee Research Groups.