Linn Bekins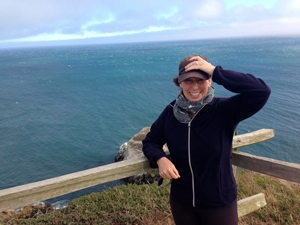 Director of the Certificate in Professional Writing
Office: Storm Hall West 107 | Phone: (619) 594-2211
Email: [email protected]
Curriculum Vitae
Dr. Bekins earned her Ph.D. in Education, emphasizing rhetoric and composition, from the University of Utah, Salt Lake City. Currently, she is an Associate Professor and Director of the Certificate in Professional Writing in the department of Rhetoric and Writing Studies (RWS) and is faculty in the department of Regulatory Affairs. As Program Director, she has collaborated with RWS faculty to develop what is now SDSU's largest academic department. Graduates have been selected for internships and employment in the state's most distinguished public and private sector organizations.
Drawing on her broad range of research interests and experience for lectures and training, Dr. Bekins demonstrates the enduring importance of rhetorical strategies in science, health literacy, user experience design, scientific and technical communication, and adult learning modalities. In addition to her responsibilities at SDSU, she continues to serve as an industry consultant and committee member for industry trade organizations. As a consultant, Dr. Bekins specializes in scientific writing instruction, project management, and process design. She has worked as a consultant to the FDA performing quality audits of NDAs and provided guidance to facilitate and improve the communications between medical officers and pharmaceutical companies. Dr. Bekins conducts numerous on- site writing and project management workshops to help scientists develop their communication skills at such organizations as Hologic (formerly Gen-Probe), Metabasis Therapeutics, and the U.S. Geological Survey. She has also provided content development and consulting services to healthcare organizations, such as American Specialty Health, as well as high-tech and social media corporations.


Intersection of written communication, rhetoric, and science as well as user experience and user design.
RWS 500, Advanced Composition
RWS 503, Professional Writing
RWS 504, Advanced Professional Writing
RWS 506, Writing Internships
RWS 508, Scientific Writing
RWS 607, Writing Project Management
RWS 640, Research Methods in Rhetoric and Writing Studies
Co-teach an online course in Regulatory Affairs, RA 605: Medical/Scientific Writing for Healthcare Professionals
Mathison, M. and Bekins, L. (2017). "Designing assignments as relational activity: When do thinking, learning and writing connect?" In M. Mathison (Ed.), Sojourners and Third Cultures: A Case Study of Writing in the Disciplines, Teaching in the Disciplines. Logan, UT: University of Utah Press.
Cammack, B., Bekins, L. & Krug, A. (2013). "From concept to action: Do environmental regulations promote sustainability." In P. Goggin (Ed.), Environmental Rhetoric and Ecologies of Place. New York: Routledge.
Bekins, L. & Williams, S. (2006). "Positioning technical communication for the creative economy." Technical Communication, 53(3), 287-295.
Robinett, J. & Bekins, L. (2005). "Medical narratives in empirical frameworks." Academic Exchange Quarterly, 9 (3), 116-120.
Bekins, L., Huckin, T., & Kijak, L. (2004). "The personal statement in medical school applications: Rhetorical structure in a diverse and unstable context." Issues in Writing, 15 (1), 56-75.
Ornatowski, C. & Bekins, L. (2004). "What's civic about technical communication? Technical communication and the rhetoric of 'community.'" Technical Communication Quarterly, 13, 251-269.